Joined

Jul 28, 2019
Messages

4,508
Reaction score

2,834
Free Blacks and Slaves in the California Gold Rush...
https://blogs.loc.gov/inside_adams/2021/02/african-americans-gold-rush/
snip...
The discovery of gold in California kicked off the largest mass migration in US history. Whites, Blacks, Latin Americans, and Chinese immigrated to the territory in the hopes of striking it rich.

As Rudolph M. Lapp points out in his book, Blacks in Gold Rush California, although some free African Americans such as Reuben Ruby traveled to California and made sizable profits from gold digging, numerous enslaved African Americans crossed over into the "free" state of California with their slave masters. According to Quintard Taylor in his article, "African American Men in the American West, 1528 – 1990," "By 1852, 300 slaves were working in the gold fields, and an undetermined but sizable number were house servants in California." (ANNALS, AAPSS, 569, May 2000, p. 105). California had entered the Union as a free state in the Compromise of 1850, "but lack of government oversight allowed slavery to flourish in certain regions.

snip...

The same year, the US census recorded that approximately 962 "Free Colored" people lived in California, with the male population totaling 872, vastly outnumbering the female population at 90. Blacks accounted for a mere 1.5% of California's total population at the time.
snip...
Encouraged by positive reports of gold mining success in leading African American newspapers, including Frederick Douglass' North Star and William Lloyd Garrison's Liberator, Jonas H. Townsend, Newport Henry, and other free Blacks left New York for the gold fields in 1849. According to an article in the New York Tribune, quoted by Rudolph M. Lapp in Blacks in Gold Rush California, Reuben Ruby, an African American man, "had acquired six hundred dollars from four weeks' digging on the Stanislaus River." Additionally, the Fugitive Slave Law of 1850 may have pushed runaway slaves hiding in Northern states to migrate to California, a supposedly free state, to avoid the risk of recapture. However, the California Fugitive Slave Act of 1852 allowed slave owners to reclaim escaped slaves, making life in the burgeoning Western state more dangerous for both free and enslaved African American
s
Here some more...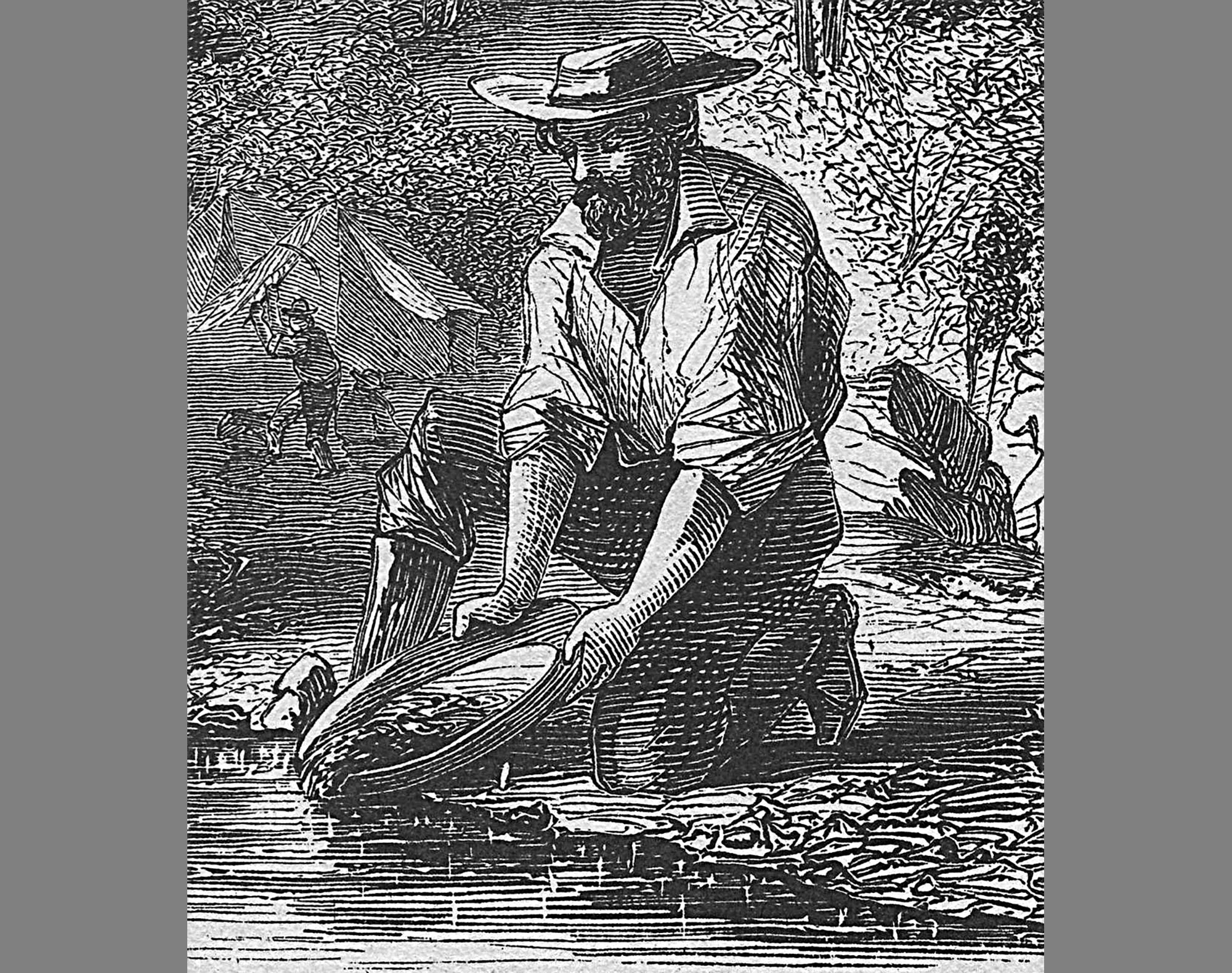 On January 24, 1848, James Wilson Marshall was working as a carpenter for John Sutter, a Swiss citizen who had migrated across the globe to build a mill in Colima, California. Marshall was busy building a water-powered sawmill on the American River when he spied gold flakes in the water. "It...

caamuseum.org
snip...
[In 1849, a] small group of African-American miners establish one of the earliest mining claims in Sacramento County at Negro Bar, on property once owned by William A. Leidesdorff, on the south bank of the American River near what is now Folsom, California. The African-American miners mine the claim for nearly a year before moving on to nearby claims further north. The newer claims at Negro Hill and Massachusetts Flat were more permanent in nature and represented some of the first successful mining claims mined by African-Americans and other groups. Founded by Mormons mining at nearby Mormon Island, Negro Hill was rediscovered by an African-American miner named Kelsey from Massachusetts in the fall of 1849, thus giving the site its name. Mining activity at these sites continued until the late 1850s when the lure of mining began to fade and African-Americans and other miners found their way to the growing cities and towns of northern California. Other mining claims for African-Americans would be found around the gold country from Downieville in the north to the southern mines in Calaveras and Mariposa Counties. [read more]

snip...

A handful of African Americans struck it rich in the gold fields and mines, while others established successful businesses such as hotels, laundries, and restaurants catering to the over 100,000 men who poured into the territory. But those successes aside, the question of when and how the territory would enter the Union--free or slave?--would lend California's black population importance that belied its numbers. The Gold Rush significantly sped up the process of entering the Union and California become a free state in 1850, but slavery would remain rife across the Golden State's wild expanses for many years as migrants brought the horror west in defiance of the law. In addition to the perils that came with isolation and lawlessness, the legal status of California's black population was further confused by an 1853 Fugitive Slave Law that held that enslaved Africans who had managed to escape the slave power could be captured and forcibly reenslaved in California despite the state being "free." As the stories of enslaved men and women like Carter Perkins, Robert Perkins, Sandy Jones, and Biddy Mason make clear, the Gold Rush era was a time of great transformation for African Americans and California, but great risk as well.
SNIP...
The Gold Rush Era marked the real beginning of African American migration into California. About 200 to 300 slaves came to work the gold fields, followed by free African Americans. As the Daguerreotype of miners at Spanish Flat illustrates, black and white miners worked side by side.